If you're like most offices, you and your coworkers use black and white printing most of the time, and the option to print in color is a perk that you rarely use.
When you do print in color, though, what's not so nice is that annoying error code taunting you that your ink is low or totally out.
How can it be that something you use the least needs replacing the most? You know for a fact that no one uses them, so how could they "run out" of ink? Well, it turns out, the reason why they've stopped working is because no one uses them. Here's why color ink cartridges seem to go bad, and how you can prevent it from happening.
The answer lies in the consumables and many people don't even know that there is a difference. Find the document you want, press print, and the magic elves inside your printer make it happen, right? Beautiful color on demand!
But there is a big difference between ink and toner. If you're perpetually frustrated, it's time to learn about it.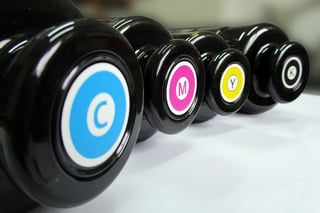 Toner and Ink: Briefly Explained
Toner is dry.
Ink is wet.
In a toner-based printing process, the dry toner is essentially pressed and heated (or fused) onto paper.
Ink literally soaks into the page. (Ever notice how an inkjet page is a little cool and damp when you pick it up off of the printer right away?)
Why Toner Is (Usually) a Better C

hoice Than Ink
Because the initial cost of inkjet printers are fairly low, many office opt for standalone devices to have on hand should the need for color arise. But, while inkjet might seem more affordable for something you use 1% of the time.
No necessarily. Inkjet cartridges can dry up from infrequent use, and thereby cost you more in the long run. Once installed in your printer, ink can begin to dry as quickly as 3-4 weeks when left unused in your printer.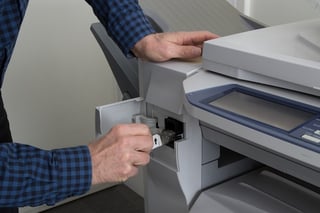 Granted, laser printers might be a little more expensive initially than most inkjet printers. However, the toner they use never dries, which means you never have to worry about your supply going bad.
Here are some other reasons why toner is superior to inkjet:
cost per page for color is significantly less for higher volumes

laser printed materials are much more resistant to smudging and bleeding

print quality is much sharper

print output time is faster

toner refills can be stored longer so you can take advantage of volume buying discounts
Here are just a few examples of how the two compare:
| | | |
| --- | --- | --- |
| | Standard Laser Printer | Standard Inkjet Printer |
| Pages Per Minute | 35 ppm | 7 ppm |
| Monthly Print Volume | 750-3,000 pages | 250-500 pages |
| Average Cost | $187.99 | $45.98 |
| Cost per page | $0.027/page | $0.09/page |
| Cartridge/Toner Page Yield* | 6,900 pages | 500 pages |
*average number of pages you can expect to print before you need to replace toner/ink.
To put this into perspective, it'll cost you about $162 to print 6,000 color pages on a laser printer. It'll cost about $540 to print the same amount with an inkjet printer – and that assumes you don't end up throwing ink cartridges away that dry out on you.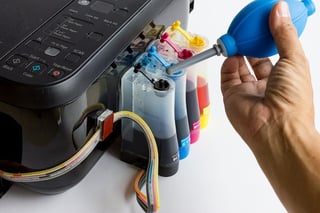 If you're not quite ready to make the investment in a laser printer that uses toner, here are a few tips on how you can make the most of your existing inkjet device:
Print a color document once a week, even if it's just a test. Infrequent use of your inkjet cartridges can cause the ink inside of them to dry out, causing a blockage between the ink and the nose in the printhead.

Keep inactive ink cartridges in sealed containers like their original packaging or ziplock bags.

Always store ink cartridges somewhere that's dark, dry, and not too hot or cold.

Replace cartridges as close to when you need them versus stock piling unused ink on a shelf where it can dry out before you use it.

Store your cartridges horizontally, not vertically, to keep the ink from collecting on one side.

Keep dust from collecting on (and in) the cartridges.

If you have issues printing, try running a print-head cleaning mode each time you install new cartridges.

If that doesn't work, try warm water. Remove the cartridge from the printer and immerse it in a bowl of warm water. Use a cotton swab to rub the area that connects to the nozzle directly to break up any dried ink. Wipe the nozzle and cartridge dry, and try the print again. If this doesn't work the first time, try it one more time. If the cartridge still won't work after two attempts, replace it.
While the initial cost of inkjet might seem like a more affordable road to color, don't forget to take into account the price of ink cartridges and how often you will have to replace them (because of their low page yield). Still not sure what is best for you? We can help.