It's time to stop shuffling paper.
Document management equals CONTROL over documents, reduced COSTS, simplified COMPLIANCE, and easy COLLABORATION on the documents manufacturers rely on to run their businesses, such as: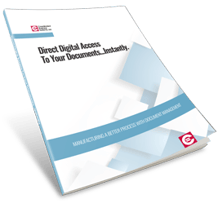 Digitize human resources documents
Streamline accounts payable processes and take advantage of early payment discounts
Improved safety by centralized management of standard operating procedures and other safety-related materials
You don't have to rely on paper documents to run your business. There's a better way. Read our free eBook.
Discover what document management can do for you.