It seemed to happen very quickly. That one "hip" co-worker brought in some kind of folding mechanical construction one day, set it up on her desk, and proceeded to stand as she worked. She looked like she worked on the bridge of the USS Enterprise. Then, the very next day, another co-worker was towering over you. Then another.

Standing desks are the latest craze sweeping the working world. What's up with that? Your co-worker has probably talked your ear off about how great they are, no doubt while glowering menacingly down at you from her perch on high. But is there any truth to her proselytizing? We here at Coordinated have done a little investigative reporting to find out just that. Here are three arguments for the standing desk that, if not converting the skeptic in you, will at least help explain the phenomenon. Try reading this while standing up! Just kidding. We're not your boss.
Health
According to James Levine at the Mayo Clinic, Americans spend more than half of their days sitting. Think about it: Between driving to work, working, driving home, eating, watching tv, etc. you sit more than you stand. Over a long enough period of time, this can be a bad thing. Our bodies are designed for movement. Stationary sitting can weaken muscles that are naturally maintained by movement. It can also contribute to making your immune system sluggish and less effective. Sitting for long periods can also signal the enzymes that break down fat in your bloodstream to take a break. This can cause fatty build ups in your capillaries and veins, which can cause increased risk of heart attack or diabetes. Some have (admittedly rather melodramatically) called sitting "the new smoking."


So, what can a standing desk do about all this? Well, according to some studies, the scary effects of sitting can be counteracted by lightly engaging your body throughout the day. The standing desk is an attempt to do this without sacrificing productivity. The exact effectiveness of the standing desk is still subject to research, but a growing body of evidence suggests that they can be beneficial to your health in a number of ways.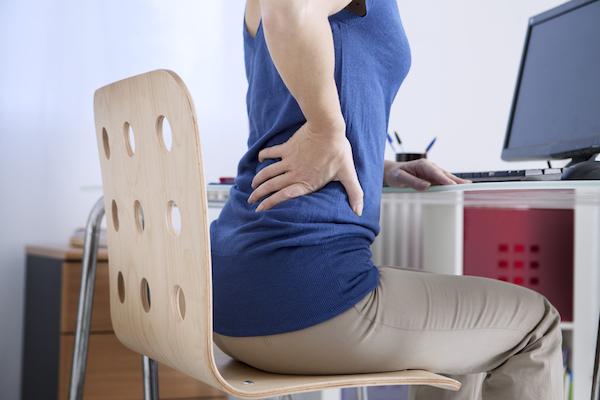 Comfort
If you're a true skeptic, you probably braced yourself for the scare tactic portion of your co-worker's argument. Sure, sitting can be unhealthy, but you can find a way to get active without standing around like you're at prom without a date. Fair enough. Some proponents of the standing desk aren't adopting it because they're health gurus, however.


Sitting can also just get uncomfortable, especially for long periods of time. Most people don't exactly maintain prim-and-proper, nun-like sitting posture over the day, either. Sitting in a chair for long periods naturally tends to put stress on different parts of the body. Unless you're 22, you may have noticed a little lower back or neck soreness after a long day of work. Sitting also tends to reduce circulation to your extremities, which can contribute to an increased risk of joint pain.


What all this means is maybe your "hip" co-worker isn't one of those kale-eating, marathon running superhumans after all. Maybe she's just trying to deal with back pain. Bet you feel pretty bad about those drawings you did of her attacking the empire state building now, don't you? (Don't be, they were pretty funny). Most standing desks are adjustable, too, so you can sit down if your legs start feeling tired. Alternating sitting and standing is not only healthier, it may be more comfortable for you, too.
Energy
Have you ever fallen asleep at your desk? Even nodded off for just a second? No? Really? Well, we're not all the paragon of productivity you are. Plugging away at your desk every day can be tiring, especially if you had a roast beef sandwich for lunch. Sitting down is a restful position, which is relaxing, but can also lull you off to sleepytime land. Sleepiness can really sneak up on you work, especially if you're in the zone. You'll be writing your fiendishly clever blog, then suddenly you're having that dream where your boss, Will Smith, fires you again.


Obviously standing instead of sitting isn't a perfect fix for the sleepys, but it can help you be more alert. When you feel your productivity lagging, try getting up and maybe going for a walk. Standing desks can be one way to snap you out of the post-lunch funk, which can improve your mood and help you get more work done (or at least feel more awake while you don't get work done).


Even if our three-pronged argument hasn't convinced you that standing desks are anything more than the latest health fad, hopefully you'll at least understand why some of your co-workers are trying them out. It's worth noting that even if you don't think a standing desk is for you, you should consider paying attention to your office habits and making an attempt to stay casually active.


There are other ways to exercise at work besides standing you could try. You could also simply take a few more walks every day. Health guidelines recommend taking a 5-10 minute break for every hour you spend looking at a computer screen. While this might not sound reasonable, it's important to remember to take care of yourself. You are your most important asset, and caring for your body and mental state will help you stay healthy, active, and happy longer.


If you're looking for other ways to improve your work life, check out our other blogs for more ideas. If you or your company are ever looking for business technology solutions, Coordinated is committed to treating our clients to respect and high quality service every time. Contact us today to learn more.